Aptera's Garage Door Repair & Service Guide
If you are evaluating whether getting garage door repair or completely replacement make more sense for you, Aptera has the info to help. When well maintained, garage doors typically last for up to thirty years. We understand the need for home owners to not only have a great looking door, but one that also fits your style and needs. Below is a complete guide on different types and styles of garage doors, as well as what the average cost is to purchase a new door and install or to have your existing one replaced. Once you have decided on which route you will take, let Aptera connect you with quality professionals in your area for the best prices and service.
---
Garage Door Guide
---
What types of doors are available?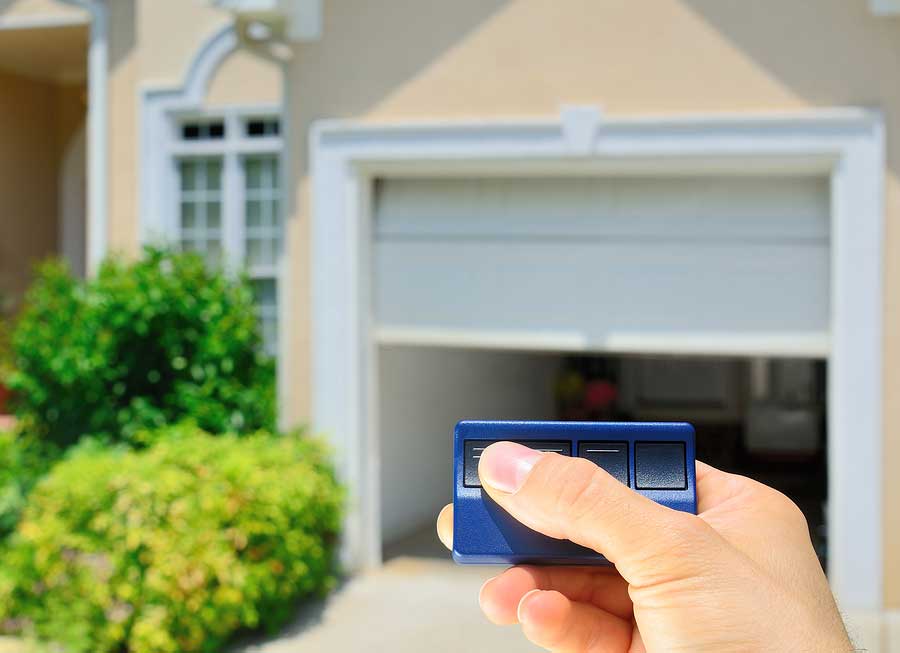 Automatic garage doors simplify life.
There are several options to choose from when it comes to garage door types. The most popular ones include canopy up and over, retractable up and over and sectional. There are many pros to each of these types and the prices for each vary as well, so it all depends on what you are personally looking for and what works for your individual home.
Canopy Up And Over

Canopy garage doors are unique and quality choices. They earn their name because they protrude out of the framework whenever the door is opened, forming what looks like a canopy. These are fairly easy to have installed and can be converted to use a remote control if the proper additional equipment is purchased. The con to having a canopy type, is that any door over eight feet wide will be too heavy for the canopy mechanism to function safely, so this option only works with certain sizes.

Retractable Up And Over

The retractable door is in high-demand because they are incredibly sturdy and reliable. Instead of using cables in the door panel for lifting operation, lifting arms with tension springs are mounted on the sides and open the door panel while the panel opens up into the garage on steel runners. This is the easiest type of mechanism to convert to use remote control operations, making it a popular purchase for garage doors.

Sectional Door

The sectional door is the most popular choice because it offers the most security. This type also comes with different insulation options and offers a huge range when it comes to the size of door you want. Many love the sectional because it guarantees quality and smoothness in operation. The main reason consumers tend to choose this option over up and over styles is because it does not swing out when opening. Rather, the panels split horizontally and curve at the top to follow the roofline of the garage and stay out of your way.
---
What styles are available?
Once you have chosen the type of garage doors you want, it is time to think about the garage door style that would work best for your home. From steel to wood, your options are endless and there are many pros and cons to all of the styles available.
Steel

Steel doors are always a solid option because it is easy to customize them. You can choose to have two different layers of galvanized steel on them for more insulation and for security reasons. They can also be painted however you'd like in order to fit in with the current style of your home. The only downfall to this type of door is that they can be easily dented or damaged.

Vinyl or Fiberglass

Many go with vinyl or fiberglass garage doors because, unlike steel, they are solid and hard to damage or break. The main difference between the two options is that vinyl comes in fewer colors, so it can be harder to match vinyl to the rest of your home. Typically, vinyl doors costs less than steel doors due to the type of material that is being used.

Wooden

Wooden doors are the most popular from all of the styles available, simply because they are more aesthetically appealing. Wood doors are built with several layers, so the door does not become warped as time goes on. You can choose from many different types of wood like cedar, fir, or redwood.
---
What You Can Expect Regarding the Cost of Garage Doors
Most homeowners spend anywhere from $740 to $1,500 on their new doors. However, there are many factors that come into play when it comes to calculating the actual costs you will spend on them. Prices can go all the way up to $4,000, depending on the style or type that you choose to buy, but the average cost for them is typically in the $1,500 range. While this may seem like a costly purchase for you, it makes for a wise investment because you will not only improve the functionality of your home, but also the appearance of it.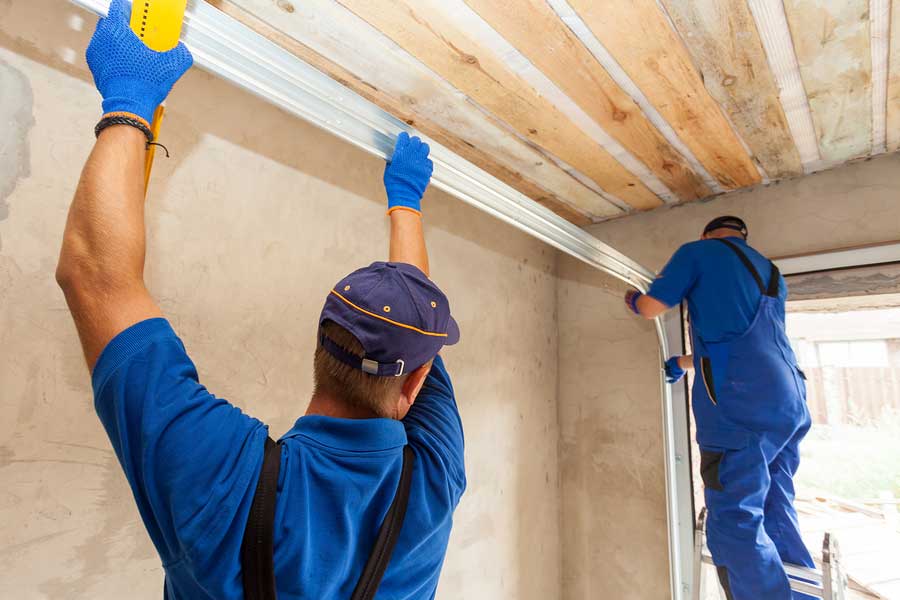 Save time by having doors professionally installed.
---
What Does It Cost To Get A Garage Door Installed?
When it comes to actually having the garage doors installed, expect to spend between $500 and $800 per door. This means if you have two doors, you can expect the price to double. It may seem like a high installation fee, but whenever you consider all that comes into play during the installation process, the price is reasonable. The process involves proper removal of the old door, connecting electrical wiring and at least five hours of work-time to complete.
---
What does the typical garage door repair cost?
Replacing Garage Door Springs Typically Costs Between $200 and $250
The most common problem people experience with their doors is a broken spring. After being opened and closed numerous times a day, the door spring will eventually fatigue and snap. If you hear screeching from the metal or are aware that something in the spring has broken, it's time for repairs.
Garage Door Cable Repair Will Cost Between $150 and $200
Over time, the cable on the garage doors will become frayed or broken and will need to be replaced. This plays an important role by keeping it from slamming on you or your car if the spring breaks, so it is highly important to maintain and fix when needed.
Fixing a Bent Garage Door Track Will Cost Roughly $125 to $175
A common problem homeowner's experience is a bent door track. It is not difficult to accidentally knock into the track and bend it out of shape. When this happens, it's time to call a professional to repair it right away before further damages occur.
As you can see, there are countless things to think about, consider and decide on before purchasing brand new garage doors. If you already have a door that is not working properly, perhaps it is just in need of repairs rather than an entirely new one? If you are looking for a brand new one, do some research and decide what type, style and price you are willing to pay. This door helps keep you, your family and your vehicles safe, so it is wise to invest in a quality one if your finances allow.
Perhaps you are experiencing issues with your current doors and are hopeful to just be able to repair them rather than fully replace them. Here are some of the most common issues people experience with their garage doors and how much those repairs typically cost. It is important to know that safety is the biggest concern when installing or repairing a garage door. Remote control safety should be taken seriously; if at any point the remote begins to act strangely, it is best to have a professional check for any damage.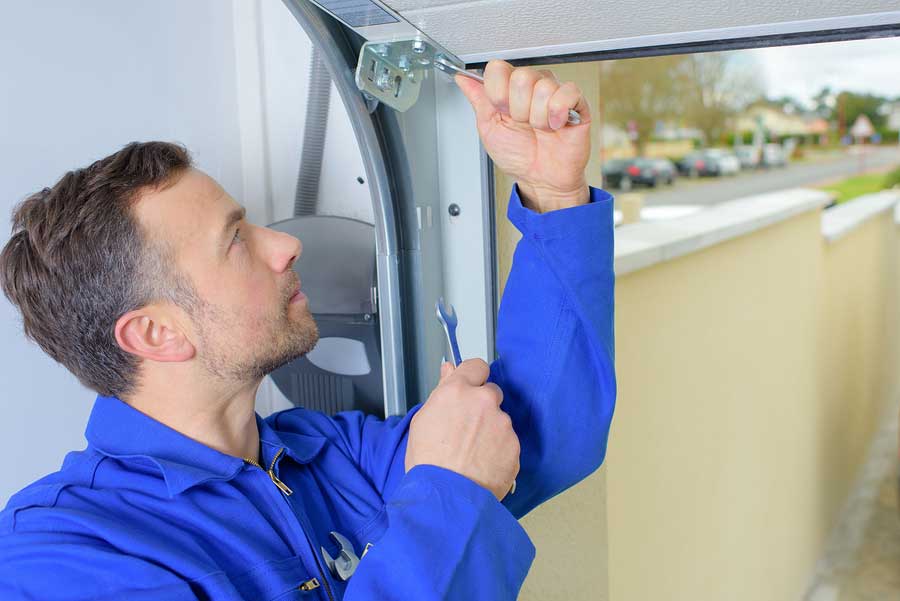 Checking your track alignment can fix most common door issues.
Here are some important garage door pointers to remember.
Garage doors keep you and your vehicles safe, so it is wise to invest in a quality one
The many types of doors to choose from are canopy up and over, retractable up and over and sectional
These doors come in a variety of styles. The most popular styles are steel, vinyl, fiberglass and wood
Most homeowners spend anywhere from $740 to $1,500 on brand new garage doors
Prices can go all the way up to $4,000 for new doors, depending on what type and style you choose and who installs it
Installation fees typically range from $500 to $800 for a single, new garage door. If you are installing two new doors, that cost will be doubled
Common repairs for these doors include broken door springs, broken cables and bent door tracks, all ranging from $125 to $200 in repair costs
---
Contact Us Today
If you would like to learn more about garage door options, let Aptera find you a highly rated professional in your area who can can not only answer any questions, but also provide you with multiple options and a quick and easy quote.