Aptera's Guide to Paper Shredding Services
When boxes of paper start to pile up it can make your home or office feel very chaotic. Whether you run a large business or have a home office, it is nearly impossible to stop files, invoices, statements and contracts from accumulating faster than you can store it. Professional paper shredding services can help you quickly and securely eliminate unwanted documents. Not sure where to begin? Aptera will help you find secure and affordable paper shredding companies in your area.
---
---
How Paper Shredding Services Work
Paper shredding services typically offer several options for residential and commercial customers. Most paper shredding services allow you to choose between drop off, pickup, and on site shredding. Using a shredding service to destroy pertinent documents is safe and secure. Employees undergo thorough background checks and the contents of your shred bins are protected from the moment they leave your hands. Once the shredding process is complete, the chopped and shredded paper is recycled.
Shredding services certified by the National Association for Information Destruction will provide your place of business with a Certificate of Destruction. This certificate is required to meet various state and federal standards when your place of business retains records containing certain types of personal information. Two well known federal policies which mandate proper disposal methods for destroying information include HIPAA (Health Insurance Portability and Accountability Act) and FACTA (Fair and Accurate Credit Transactions Act).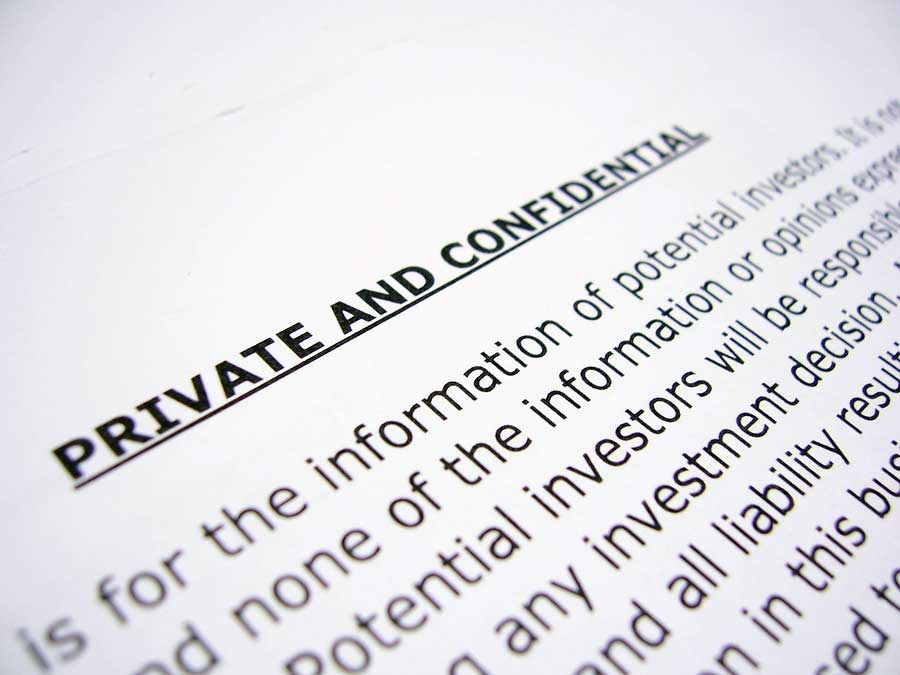 Keep private documents secure with professional paper shredding services.
Drop Off Shredding Facilities
Some paper shredding services allow customers to bring documents to a shredding facility. This is particularly useful and affordable when you only have a box or two of files you would like to have destroyed. Facilities are typically open to customers during specific hours and may or may not require an advance appointment.
Document Pickup with Offsite Shredding
With offsite shredding, you will first schedule a document pickup with the shredding service. When the shredding service arrives at your home or business on the selected date, your files and documents will be loaded into secured trucks and hauled to a designated shredding facility. A chain of custody is documented during each step of the process.
Onsite Paper Shredding
Onsite paper shredding is perhaps the most convenient method of file destruction. The shredding service comes directly to your location with a large shredding truck designed to destroy all types of documents. Your business's unneeded documents are taken from your building and carted to the shredding truck parked outside your door. You are able to witness the entire process. In fact, most shredding trucks are equipment with closed circuit camera systems so that your files truly never leave your site. You can actually watch as your files are being shredded which gives you extra assurance that no document is left in a recoverable state.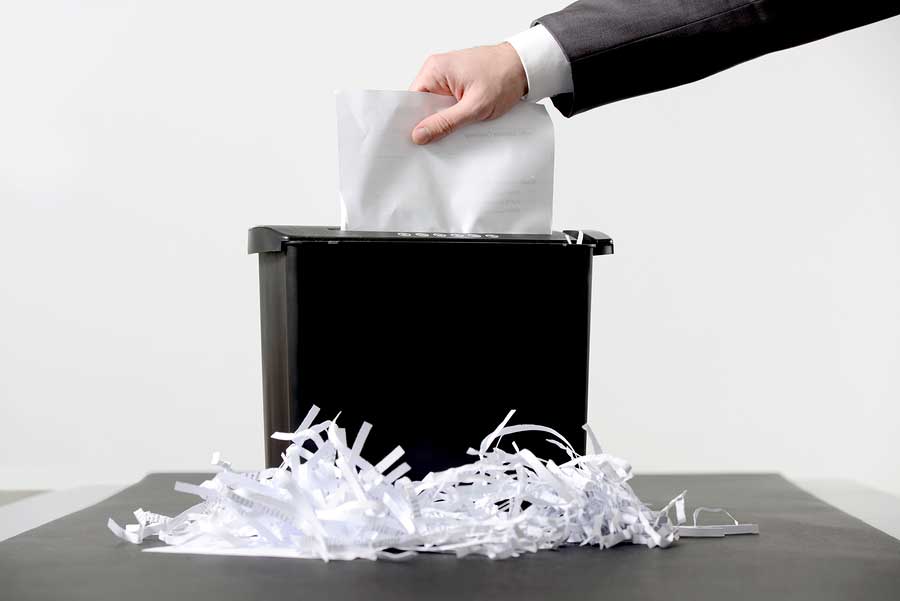 Onsite shredding can be convenient and affordable for any business.
---
Hiring a Pro vs. Shredding it Yourself
You have several options for purging old papers. You could throw the entire collection of paperwork in the trash, but with today's threat of identity theft that option leaves you open to significant personal risk. Papers containing private, identifying details should be shredded to ensure your information stays secure. Now, you are left with two alternatives; you can shred the contents of the files yourself, or you can hire a paper shredding service to destroy the documents for you.
Using a Paper Shredder at Home and Office
While paper shredding services are a great way to securely remove important documents, if you are a small business or just starting out, you may be able to use a personal paper shredder until it becomes too time consuming at which point it may be beneficial to hire a professional.
Using a Home Paper Shredder

One option for getting rid of important paperwork is to do the shredding yourself. You can stop at nearly any office supply or big box store and grab a paper shredder for under $100. If you have only a few folders full of important documents and a good hour or more to spare, this option might work for you. However, if your basement has numerous bankers' boxes full of files, a home paper shredder may not do the trick unless you have a lot of time on your hands.
Home paper shredders can only accept a limited number of sheets at a time. If you put just one too many in the shredding feed you will need to back the paper out and start again. If the shredder jams then you will need to unplug the machine and dig small scraps of paper from between the cutting blades. In addition to this problem, most home shredders are not cut out for continuous use. They tend to overheat and enter a lock out mode after so many minutes of uninterrupted shredding.
Using a Paper Shredder in the Office

Most offices have a paper shredder sitting around, but how many employees are actually taking the time to shred? And what happens when old files start to flow out of the store room and into your usable office space? Shredding at the office decreases productivity and quite often does not meet the privacy requirements for documents that contain private information.
Pros and Cons of Shredding Papers Yourself
| Pros | Cons |
| --- | --- |
| Able to shred paperwork anytime you want | Easy to let papers pile up, meaning long hours of shredding ahead |
| Home shredders are readily available for purchase from nearly any office supply store | Some home shredders can only handle a small number of papers at one time |
| Home paper shredders are typically inexpensive | Home shredders often time out for 10+ minutes after continuous use |
| Various types of shredders are available, with options for the type of cut as well as the maximum amount of sheets you can shred at one time | Some home paper shredders simply shred the paper into long strips - this type of shred still leaves your information at risk for identity theft |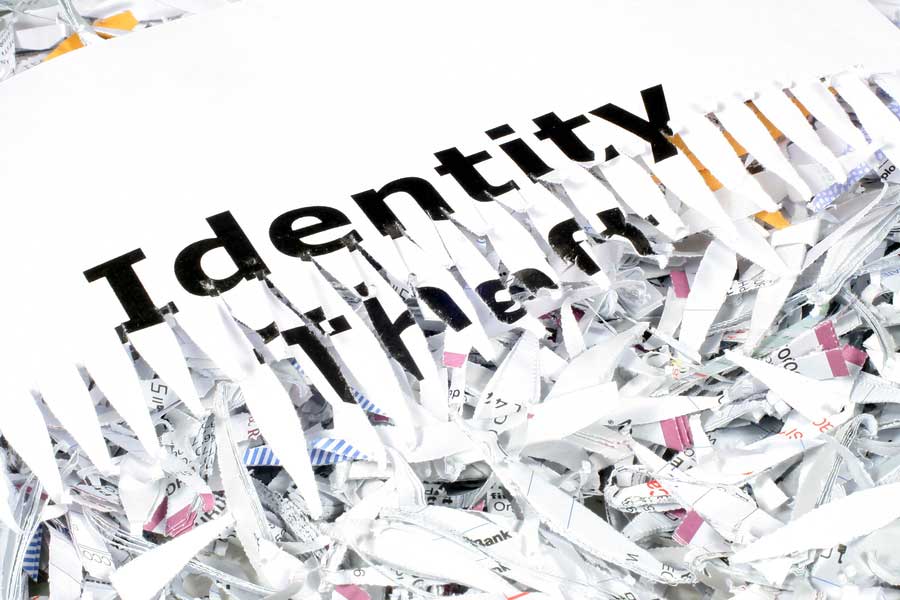 Paper shredding is an easy way to prevent identity theft.
---
Hiring a Professional Paper Shredding Service
Consider the amount of time wasted when employees are required to walk back and forth to the shredder each day to destroy unneeded paperwork. Then think about how many of those documents are just thrown nonchalantly in the trash. If your company handles any type of secure information, a paper shredding service is the way to go.
Paper shredding services offer secure document destruction at low rates. Most companies can provide your office with locked bins meant specifically for document disposal. Your employees simply drop a handful of papers into the slot on the bin. Documents remain completely hidden from view and secured by lock and key until your scheduled shred date.
Pros and Cons of Using a Paper Shredding Service
| Pros | Cons |
| --- | --- |
| A paper shredding service is cost-effective and saves a lot of time over a home shredder | May not make sense to use a service if you have very few documents to shred |
| Paper shredding services will come to you (no hauling boxes of files) | There may be additional charges to bring boxes up from your basement |
| You have the option of onsite and offsite shredding | Some services may not be available for onsite shredding on very short notice (although some do offer same day service) |
| Professional shredding services are secure enough to meet even HIPPA and FACTA standards | |
---
What Are The Costs of Paper Shredding?
The cost of a paper shredding service is highly affordable, particularly compared to the value of your time. Depending on whether you need one-time, monthly, or annual shredding services, costs, based on paper weight, can range from $9 to over $200.
Average Onsite Pricing
| Frequency | 1 - 16 Boxes | More than 16 Boxes | 1 - 5 Bins | More than 5 Bins |
| --- | --- | --- | --- | --- |
| One Time Shredding*$125 - $200 minimum may be required | $12 per box | $9 per box | $95 per bin | $80 per bin |
| Monthly Shredding | $45 flat rate | $75 plus additional $4 per box after first 20 boxes | $100 flat rate | $150 plus additional $20 per bin after first 10 bins |
| Semi- Annual Shredding | $85 flat rate | $125 plus $5 per box after 20 boxes | $150 flat rate | $215 plus additional $35 per bin after first 10 bins |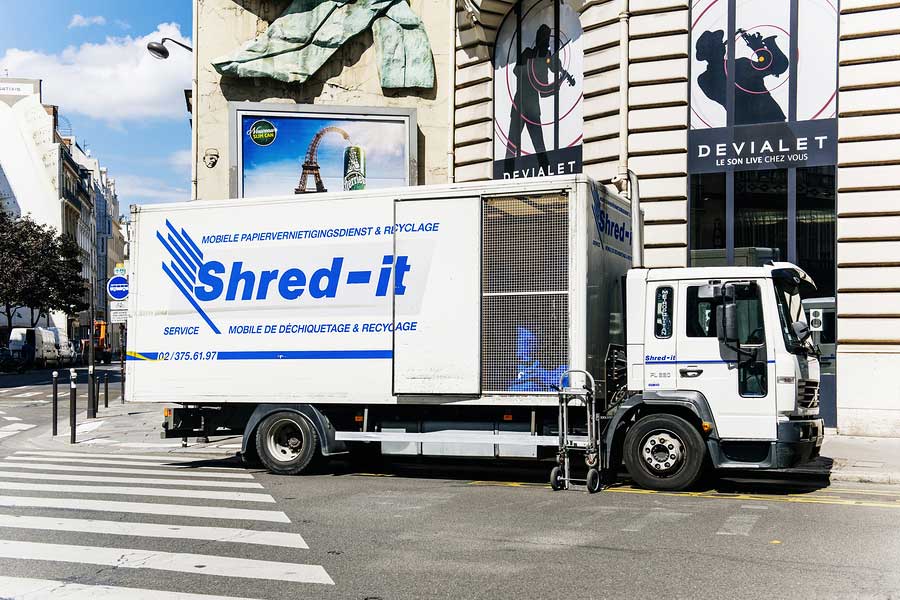 On-site shredding is not only convenient but also affordable.
---
How Do I Find The Best Paper Shredding Companies?
Reputable and professional paper shredding companies have a strict protocol in place for hiring, firing, and training employees. Shredding services should also be able to show proof of certification from the National Association for Information Destruction (NAID). NAID certified paper shredding services meet or exceed the standards set for information destruction.
Aptera partners with the most reputable paper shredding companies in your area to bring you a variety of information destruction options at affordable rates from professionals you can trust. In addition, our local partners have agreed to provide you with competitive pricing on document shredding in hopes of gaining your business. Let Aptera help you find local, affordable paper shredding services for your home or business.