How to Get the Best Seattle Garage Door Company
How can you ensure the garage door company in Seattle you choose uses only qualified technicians? There are several certification agencies including DASMA (Door & Access Systems Manufacturers Association International) and IDA (International Door Association) that offer voluntary programs for overhead door installation. Ask your overhead door company in King County if the techs are certified and if the company holds a current license (you can verify this with the local licensing authority). Also, make sure the company is bonded and insured to protect yourself from poor workmanship and accidents on your property.
Once you find at least two companies that meet licensing, certification, and insurance requirements, it is time to compare bids. Make sure each written, signed bid is for the same scope of work and lists details of the project. For example if you have requested pricing for garage door installation in King County, do all bids include the cost of materials and removing the old door? Ask if there are any additional costs that are not included in the quote; if so, get those in writing. Finally, ask for references from previous customers. The best garage door service in King County is one with a great track record, proven results, and fair prices.
Most Common Garage Door Repairs in Seattle, WA
Available in a multitude of styles, each type of door will present various types of problems. Additionally, the fluctuating climate in King County, the frequency of door use, and the age of your garage door can each add to the challenge of diagnosing the repairs it needs. Find out more about common overhead door problems and their causes, as well as what you can do to make sure your garage doors in Seattle continue to operate with ease.
Garage Door is Stuck Open or Closed
The door will not open or shut; this could be as simple as something stuck in the track, but it could also indicate an unevenly hung door. Seattle garage door repair professionals adjust the tracks, springs and other components—often without replacing parts. The cost is around $75 for the initial service call, plus the company's hourly rate.
Springs are Broken
Even though broken springs are the most likely way for your door to break, most will actually last around 15,000 cycles (a cycle is when the garage is opened and closed once). Higher end door springs can last over 20,000 cycles. If your car is trapped in the garage you can use the emergency cord to release the door from the motor, but you will want to have the springs replaced as soon as possible so you don't have to manually open and close it. Note that the springs above the door are torsion springs and tension springs are along the side. The cost for replace garage door springs in King County can range from $140 to $390, depending on the model.
Door Drops Dangerously Fast
Damage or serious injury can occur when the door falls too quickly, and the culprit is usually a broken cable. The cost to replace an overhead door cable is usually around $95 for parts and labor. Older doors often lack an electric eye to detect obstacles and don't automatically reverse upon impact. Never ignore this problem as it is a safety hazard for children, pets or employees!
Garage Door Moves Unevenly When Opening or Closing
A garage door that wobbles while in motion is often the result of built up debris in the track. Clearing the track should resolve the issue in most cases. However, older tracks, or those allowed to operate unevenly for a longer period of time may need full track replacement. Pressure can mount on specific places along the track rather than dispersing evenly as it does with a properly working door.
Door is Making Loud Noises
If your door begins making a grinding or screeching noise you may have debris in the track, but this could also be caused by a lack of lubrication.
Opener is Making Noise but Door is Not Moving
If your door opener is making a buzzing or grinding sound but the door will not function, your main gear drive needs to be replaced. It will typically cost $135 to replace the gear drive if there are no other repairs that need to be made.
Motor Needs Repair or Replacement
If your garage door opener motor breaks or dies it is often ore cost effective to simply replace it with a new one. Temporary fixes will be only slightly cheaper, and you run the risk of needing future garage door repairs as well.
Garage Door Remote Control is Not Working
If the remote control is not working be sure to replace the battery first. If this does not work you will need a new remote. Replacements typically cost $80 - $95.
Preventative Maintenance, Tuning and Adjusting a Garage Door
Having a garage door company in King County service your equipment on an annual basis can help prevent sudden and major repairs. Budget around $70 for annual maintenance calls—the repairman will inspect, tune, adjust and lubricate your overhead door for this price. Tip: look at this as a minor investment that will save you the hassle and costs of major repairs down the line.
Know Your Options
Garage styles and materials have come a long way in recent years. The selections available to homeowners and businesses are almost overwhelming, but these options ensure the perfect fit with the right appeal. Even the individual garage door panels give you options including flush panels, short-raised panels, long-raised panels, and even painted panels that will help match to the style of your home just a little better.
Garage Door Styles
Single Panel – A one panel door that swings up or out to open. This style is cost-effective and looks nice with older style homes. It is easy to lift manually, but requires additional space to raise and lower.
Sectional Roll Up – This style is found on most homes and is comprised of long horizontal panels connected by hinges. Sectional roll ups are secure, offer protection from wind and water, and are fairly durable. This style is more expensive than a single panel, but has a higher return on investment when it comes to resale value of your home.
Roller Door – The roller door has very thin horizontal sections and is often used in commercial buildings. They are well insulated and extremely secure, but offer little when it comes to curb appeal. They are the more costly option.
Garage Door Materials
Wood – Offers durability, style, and increased value. Requires re-staining and can be expensive.
Steel – Offers good insulation, minimal maintenance, and increased affordability. Can be dented or begin to rust.
Aluminum – Is lightweight which means less strain on parts; does not rust. Dents easily and can be pricey.
Vinyl – Low maintenance, moderately priced, and highly customizable. Not very efficient unless you purchase extra insulation upgrades.
Fiberglass – Weather-resistant, inexpensive, many options to meet aesthetic needs. Is not insulated, so may not be the best choice in extremely cold climates.
Garage Door Openers
Chain Drive – Least expensive option and long-lasting but can be noisy.
Belt Drive – Exceptionally quiet opener with a modern design. More expensive than a chain drive.
Jack Shaft – Can be used in garages with low ceilings, high ceilings, or overhead obstructions. Most expensive option.
Direct Drive – Slightly more expensive, reliable and very quiet, but can be slow.
Garage Door Upgrades
Exotic Wood – Choices in cedar, poplar, hemlock, fir, mahogany, and redwood give a rich classic look. Allows you to paint or stain to change up the look over time.
Quiet Glide – Roller or opener upgrades decrease the noise from door operation (can be valuable if there is a bedroom or workspace above the garage door)
Remote Control Options – Internet enabled garage doors work from your computer or Smartphone app. Never worry about forgetting to shut the garage again with notifications and remote access.
Extra Insulation – Upgrade with extra insulation for even more energy efficiency in your home.
Low Headroom Track – Allows a door with opener to be installed in a garage with a lower ceiling.
Decorative Design – Showcase the architectural style of your home by adding ornamental design work.
Window Options – Choose from tinted or frosted windows for increased privacy and security; pick decorative styles for more curb appeal.
Commercial Overhead Doors in Seattle
Commercial overhead doors in King County come in styles to meet the needs of any business. Sectional doors are durable and have high efficiency ratings while aluminum and glass doors provide excellent natural light and a nice aesthetic. Rolling steel commercial doors have options for increased opening or closing speed, are secure, come in fire-rated varieties and are perfect for loading docks or businesses that need extra security.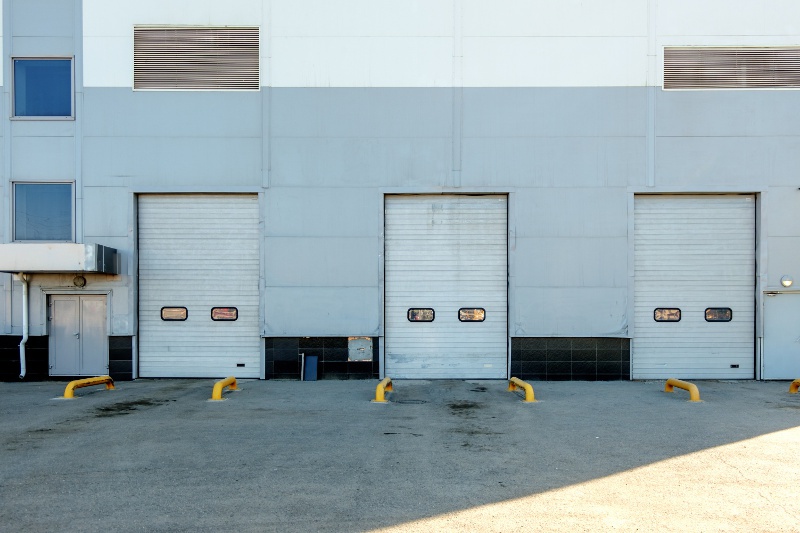 For businesses that load and unload tons of goods every day, a reliable overhead door is critical to keep the business running. And when not in use they serve as the first barrier of protection for your inventory. Emergency commercial door service in Seattle is available 24 hours a day for these very reasons.
The Critical Questions
When Should I Consider Replacing My Old Door?
Consider replacing a worn, heavy, sagging, or heavily damaged door. New, lightweight garage doors are easier to operate, add curb appeal, and offer a significant return on investment when it comes to resale. A high end overhead door should last over 25 years.
Can You Install a New Garage Door With an Opener if I Have a Low Ceiling?
Yes, they require less than 7" of head space in some cases.
Is One Brand Better Than Another?
Each brand has a unique set of positive attributes. Most garage door companies in Seattle, Bellevue, Kent, Renton and Federal Way carry multiple brands such as Amarr, Clopay, C.H.I., Raynor, and Wayne Dalton to meet the various needs (and budget!) of our customers.
My Current Door Is Not a Standard Size, Will a One Fit?
Many manufacturers are able to custom craft a door to fit. Another option is to modify the area surrounding the garage but this is typically even more expensive than a custom door.
One of My Garage Door Springs Broke, Should I Have Both Springs Replaced at the Same Time?
As both springs were likely installed at the same time, it is expected that the second spring will fail soon after the first. It is recommended you replace both springs at once to avoid another repair call in the near future.
I Would Like to Get a New Door, But Keep My Old Track. Can I Do That?
In most cases manufacturers recommend that you have a new track installed with your door for a properly balanced door that glides easily. *Follow manufacturer guidelines to ensure your warranty remains valid.
I Have a Large Dent in One Section of My Overhead Door, Can This be Repaired?
With a sectional roll-up you can often avoid complete garage door replacement by repairing/replacing individual sections (contingent on the rest of the door being structurally sound). Single panel wooden garage doors are more difficult to repair and a full replacement is usually more cost effective.
Will You Take My Old Door When I Have a New One Installed?
Yes, your old door can be hauled away and properly disposed of for a small fee.
Do You Offer a Warranty on Your Work?
Warranties on labor are typically valid for a limited amount of time (at least 6 months for major repairs) to ensure the work is executed properly. Warranties on parts and door assemblies are issued by the manufacturer and will vary by product but often start out at a minimum of one year.
Where Can I Learn More?
In addition to the information and links above, you can take a look at research on insulated garage door value, and check here for updates on energy efficient standards for garages, and www.epa.gov/greenhomes/Garage.htm.
King County Cities Served
Possibilities Unlimited
28908 Southeast 371st Street
Enumclaw, WA 98022
Rio Construction
1602 Letter B Street
Auburn, WA 98002
Am:pm Garage Doors Federal Way Wa
34029 Hoyt Rd Sw
Federal Way, WA 98023
Am:pm Garage Doors Auburn Wa
1101 Supermall Way Ste 1140
AUBURN, WA 98001
Gs Builders & Developers, Inc.
13523 Southeast 333rd Place
Auburn, WA 98092
All Around Mobile Garage Door
415 1st St Ne
Auburn, WA 98002
Supreme Overhead Garage Door
415 1st St Ne
Auburn, WA 98002
All City Mobile Garage Door
1814 S 324th Pl
Federal Way, WA 98003
Pacific Nw Garage Doors Owner
31811 Pacific Hwy S
Federal Way, WA 98003
Garage Door Repair Federal Way Wa
31811 Pacific Highway South #b
Federal Way, WA 98003
Dependable Doors
1821 S 310th St Apt 5
Federal Way, WA 98003
Homeland Construction Specialist, Inc.
29808 222nd Avenue Southeast
Kent, WA 98042
Rpg Construction, Llc
29722 224th Avenue Southeast
Black Diamond, WA 98010
Neighborhood Property Services, Llc
29021 13th Avenue South
Federal Way, WA 98003
Garage Door Repair Auburn (253) 214-3995
4208 Auburn Way North #3
Auburn, WA 98002
Wayne-dalton
4210 B Street Nw, Suite K
Auburn, WA 98001
Sound Door Services, Llc
15617 160th Court Southeast
Renton, WA 98058
Garage Door Repair Kent (253) 210-6416
1317 Central Ave S
Kent, WA 98032
Absolute Garage Door, Llc
4648 South 254th Street
Kent, WA 98032
Garage Door Repair Kent Wa
301 - 335 Washington Ave S
Kent, WA 98032
The Doorman Service Company, Inc.
404 Railroad Avenue, North
Kent, WA 98032
Kent Garage Door Repair
10605 Se 240th St
Kent, WA 98031
Aaa Garage Doors Des Moines
612 S 227th St
Des Moines, WA 98198
Magic Garage Door
22033 Marine View Dr S
Des Moines, WA 98198
Suntree Construction & Management, Llc
Po Box 1947
Vashon, WA 98070
Seatac Garage Doors
18838 International Blvd
Seatac, WA 98188
Ac Custom Metal Work, Llc
18204 150th Avenue Southeast
Renton, WA 98058
Tuff Shed
17500 W Valley Highway
Seattle, WA 98188
Vortex Doors
Seattle, WA 98188
A Burien Garage Door Repair
648 S 152nd St, # F12
Burien, WA 98148
Abc Mobile Garage Door
900 Sw 16th St Ste 100 - 320
Renton, WA 98057
Aaa Garage Doors Renton
1300 S 7th St
Renton, WA 98057
Install It! Services, Llc
14035 55th Avenue South
Seattle, WA 98168
Local Garage Door Repair Renton 425-440-0441
334 Wells Avenue S # E
Renton, WA 98057
Burien Garage Door Service
13609 1st Ave S
Burien, WA 98168
A & V Concrete Construction
13616 26th Place South
Seattle, WA 98168
Garage Door Repairs North Bend
111 E North Bend Way # 106 North Bend, Wa 98045
North Bend, WA 98045
Banducci Construction Co
916 Northeast 5th Street
North Bend, WA 98045
Overhead Door Company Of Seattle
9883 40th Ave South
Seattle, WA 98118
Angel Garage Doors & Gates Mercer Island (425) 502
8840 Se 72nd Pl
Mercer Island, WA 98040
Abc Garage Door Issaquah (425) 440-0843
90 Nw Gilman Blvd Suite D
Issaquah, WA 98027
Trim Wood
6733 Preston Falls City Road
Issaquah, WA 98027
Aaa Garage Door Repair Issaquah (425) 903-3139
1145 12th Ave Nw
Issaquah, WA 98027
Home Tech Design & Supply, Inc.
700 Northwest Gilman Boulevard, Suite #452
Issaquah, WA 98027
Acs - Seattle, Llc
4742 42nd Avenue Southwest, Suite 500
Seattle, WA 98116
Am:pm Garage Doors Mercer Island Wa
7525 Se 24th St Ste 300 - 320
Mercer Island, WA 98040
Gates Repair Sammamish
3020 Issaquah-pine Lake Rd Se #210
Sammamish, WA 98075
Sammamish Garage Door Repair
3020 Issaquah Pine Lake Rd Se
Sammamish, WA 98075
Mercer Island Garage Door Repair
7683 Se 27th St
Mercer Island, WA 98040
Angel?garage?doors?& Gates (425) 361-0064
1828 126th Ave Se
Bellevue, WA 98005
Seattle's Choice Overhead Garage Door
800 5th Ave
Seattle, WA 98104
Ontime Garage Door Repair Bellevue
15015 Main St Ste 100 - 205
Bellevue, WA 98007
Garage Door Seattle Wa
1120 8th Ave
Seattle, WA 98101
Local Garage Door Repair Bellevue 425-372-7377
10129 Main St # 206
Bellevue, WA 98004
Garage Door & Gate Repair Madrona 206-673-4650
1410 34th Ave
Seattle, WA 98122
Garage Door Repair Sammamish Wa
704 228th Ave Ne
Sammamish, WA 98074
Sammamish Garage Door
22830 Ne 8th St
Sammamish, WA 98074
Am:pm Garage Doors Bellevue Wa
375 118th Ave Se Ste 100 - 220
Bellevue, WA 98005
Am:pm Garage Doors Sammamish Wa
336 228th Ave Ne Ste 200 - 301
Sammamish, WA 98074
Garage Door Repair West Seattle
1111 Elliott Avenue #b
seattle, WA 98119
Pacific West Construction & Maintenance, Llc
3240 15the Avenue West, Unit C-11
Seattle, WA 98119
Always Garage Door Repair Seattle 206-673-4656
2345 Eastlake Avenue East #215
Seattle, WA 98102
North West Home Detailers, Inc.
2502 13the Avenue West
Seattle, WA 98119
Dales Helping Hands, Inc.
1737 Northwest 56th Street, Suite 602
Seattle, WA 98107
Aaa Garage Doors Redmond
16815 Redmond Way
Redmond, WA 98052
Garage Door Repair Redmond (253) 200-1291
16505 Redmond Way
Redmond, WA 98052
Local Garage Door Repair Redmond 425-440-0785
16310 Northeast 80th Street #225
Redmond, WA 98052
24/7 Gate Repair Kirkland (425) 903-3082
620 Kirkland Way
Kirkland, WA 98033
Aaa Garage Doors Kirkland
4301 - 4363 Lake Washington Blvd Ne
Kirkland, WA 98033
Jd Bergevin Homes, Inc.
1208 5th Place
Kirkland, WA 98033
Proline Systems
10909 120th Ave Ne
Kirkland, WA 98033
Overhead Garage Door Kirkland
11251 Ne 120th St
Kirkland, WA 98034
Ae Garage Door Repair North Seattle 206-673-4648
10007 Aurora Avenue #201 North
Seattle, WA 98133
Kirklnad Garage Door Repair
11410 Ne 124th St
Kirkland, WA 98034
J & M Northwest Builders, Inc.
32218 Northeast 134th Street
Duvall, WA 98019
Anderson's Door Co.
12714 Aurora Ave. N
Seattle, WA 98133
Vanderlip Construction
12448 Northeast 136th Place
Kirkland, WA 98034
Pelan Homes, Inc.
23802 Northeast 140th Street
Woodinville, WA 98077
Paradigm Framing Link, Inc.
357 North 137th Street
Seattle, WA 98133
Ampm Garage Doors
14741 Aurora Ave N, Ste 101
Shoreline, WA 98133
Jnr Construction
15842 14th Avenue North East
Seattle, WA 98155
Nice N Handy
16106 84th Avenue Northeast
Kenmore, WA 98028
Local Garage Door Repair Bothell (425) 440-0469
10031 Main St # B201
Bothell, WA 98011
Am:pm Garage Doors Bothell Wa
18404 120th Ave Ne
Bothell, WA 98011
Gate Repair Shorline
18336 Aurora Ave N # 75
Shoreline, WA 98133
Garage Door Repair Bothell (425) 903-3145
18516 101st Ave Ne
Bothell, WA 98011
N And K Construction
19840 8th Avenue Northwest
Seattle, WA 98177
Best Garage Door Repair Shoreline
20021 Ballinger Way Ne #d3
Shoreline, WA 98155
Shane Construction, Inc.
12826 Northeast 203rd Place
Bothell, WA 98011
Lgm Construction
9919 Ne 119th Court
Kirkland, WA 98034
98001 | 98002 | 98003 | 98004 | 98005 | 98006 | 98007 | 98008 | 98009 | 98010 | 98011 | 98013 | 98014 | 98015 | 98019 | 98022 | 98023 | 98024 | 98025 | 98027 | 98028 | 98029 | 98030 | 98031 | 98032 | 98033 | 98034 | 98035 | 98038 | 98039 | 98040 | 98041 | 98042 | 98045 | 98047 | 98050 | 98051 | 98052 | 98053 | 98054 | 98055 | 98056 | 98057 | 98058 | 98059 | 98062 | 98063 | 98064 | 98065 | 98070 | 98071 | 98072 | 98073 | 98074 | 98075 | 98077 | 98083 | 98089 | 98092 | 98093 | 98101 | 98102 | 98103 | 98104 | 98105 | 98106 | 98107 | 98108 | 98109 | 98111 | 98112 | 98113 | 98114 | 98115 | 98116 | 98117 | 98118 | 98119 | 98121 | 98122 | 98124 | 98125 | 98126 | 98127 | 98129 | 98131 | 98132 | 98133 | 98134 | 98136 | 98138 | 98139 | 98141 | 98144 | 98145 | 98146 | 98148 | 98154 | 98155 | 98158 | 98160 | 98161 | 98164 | 98165 | 98166 | 98168 | 98170 | 98171 | 98174 | 98175 | 98177 | 98178 | 98181 | 98184 | 98185 | 98188 | 98190 | 98191 | 98194 | 98195 | 98198 | 98199 | 98224 | 98288 |